Up to the age of 6 months, infants breathe exclusively through their nose. In the event of heavy breathing due to a cold or blocked nose, the MARIMER BABY BLOCKED NOSE AND COLD formula will clean and decongest the nasal fossae.

WHY USE MARIMER BABY BLOCKED NOSE AND COLD?
- It decongest the nose,
- It cleanses the nasal mucous,
- It fluids nasal secretions and facilitates its elimination,
- It improves nasal comfort day and night,
- It can be used in addition to ENT treatments.

HOW TO USE THIS PRODUCT?
1 to 2 sprays per nostril, preferably before every meal, 1 to 3 times a day as necessary. Please read the instructions carefully before use. Ask your pharmacist for advice.

This medical product uses a microdiffusion process which will gently discharge nasal secretions. Its wide safety nozzle makes it safe to use on infants as soon as they are born. Find out more...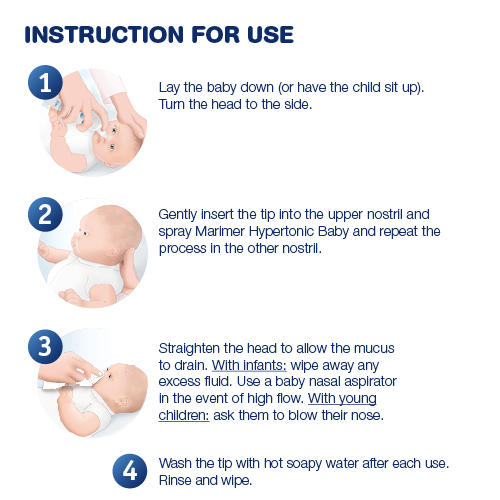 WHAT DOES IT CONTAIN?
100% sterile hypertonic diluted seawater (equal to 22 g/L of salts).
WHO IS IT FOR?
From birth


Do not use to treat premature babies
Do not use if hypersensitive to seawater.


*This medical product is a regulated healthcare product which bears CE marking, in accordance with regulations.

Manufactured by: Laboratoires Gilbert (Gilbert Laboratories)

Product data sheet last updated: 11/03/21